Limburg works with ICT&health to promote global healthcare innovations
Maastricht, 20 April 2023 – In 2024, ICT&health, the Netherlands' largest healthcare innovation platform, will bring the international healthcare world to the Netherlands for a three-day conference. The conference will be held from 14 to 16 May at MECC Maastricht and aims to shed light on the global problems in healthcare as well as the proven solutions, developments, added value of digitalization and global cooperation in the sector. The conference will be attended by around 10,000 participants.
Global centre for healthcare technology
ICT&health warns that the opportunities technology and smart innovations offer for healthcare are not being adequately taken advantage of for a variety of reasons. This is why, after seven years of organising an annual national conference for healthcare and government, ICT&health is now choosing to organise an international event including a trade fair where knowledge is shared globally, relevant solutions are presented, and lasting partnerships are created. The thrust of the conference is to encourage collaboration and scaling-up, featuring the Netherlands as the global hub. In addition to an international programme, the conference will also offer a Dutch programme that will highlight developments in the domestic market and offer opportunities for members of the relevant network to meet up.
Tom Xhofleer, ICT&health founder: 'Smart technologies, national regulations such as the European Health Data Space (EHDS), innovations and partnerships are substantially changing the way we provide and receive care. And not just in the Netherlands, but also internationally. It's crucial to unite all the international initiatives, visions and concrete developments in one place, and to develop these further, together. This is the only way we can take a giant step forward in international healthcare innovation, whereby we also put the Netherlands on the map as a healthcare innovation country. High time to invite the international healthcare community to join us. The Netherlands has an incredible amount of expertise, experience and concrete examples for achieving innovations in healthcare. Foreign countries can learn a lot from us. And the opposite naturally applies too.'
Limburg invests
ICT&health deliberately chose to hold the three-day international conference in the province of Limburg. The province is aware of the importance of innovation in healthcare in which technology plays a major role, and is keen to invest in this. Limburg Commissioner to the King, Emile Roemer: 'Limburg leads the way when it comes to innovations that make the world more sustainable, smarter and ready for the future. Research and education go hand in hand at our Brightlands campuses. The arrival of the leading healthcare innovation conference ICT&health underscores our ambitions.'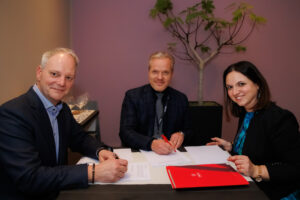 Picture from left to right: Tom Xhofleer – founder ICT&health, Rob van de Wiel – Managing Director MECC Maastricht en Oana Cipca – Business Development Manager MECC Maastricht
Back to overview